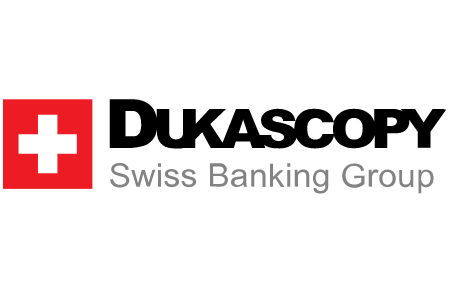 RECOMMENDED FOREX BROKERS
Dukascopy Bank SA (dukascopy.com) is a powerhouse of a broker. Being one of the few ones registered and regulated in Switzerland, this broker offers all the options needed to meet the forex industry standards, and then some. Read the review to find out all about it.
Dukascopy Bank SA is а subsidiary of the main parent company, Dukaspcopy Bank. The holding company owns two more broker subsidiaries, one in Latvia – DUKASCOPY EUROPE IBS AS (dukascopy.com) – and the other based in Japan – DUKASCOPY JAPAN K.K (dukascopy.jp)–. What's more is that Dukascopy Bank has a payment transfer and e-money company in Latvia, offering payment services via mobile, electronic and card based payment methods.
This will be a review of their main broker, Dukascopy Bank SA (dukascopy.com), which, as we mentioned, is based in Switzerland. Every broker in Switzerland must hold a banking license from FINMA in order to provide Forex and CFDs trading. To become eligible for such a license, would be brokers have to hold a capital of at least 20 million CHF. Next, Swiss brokers must sign the Swiss Banks and Securities Dealers Agreement in order to continue with their application for a legitimate regulation. This agreement protects all customers against brokers' insolvency of up to 100 000 CHF.
It is more than obvious that Dukascopy owns a FINMA license and is fully capable of retaining it.
Dukascopy, on top of offering excellent trading conditions for forex and CFDs, also acts as a binary options trader, should a client choose to take advantage of it.
The maximum leverage is 1:200 since Switzerland is not a part of the European Union, and so does not belong in the listing of ESMA.
Opening demo accounts was incredibly simple and straightforward. Since there are two forex and CFDs trading terminals, we will give you two spread values for the EUR/USD currency pair. On the Metatrader we go a spread of 0.4 pips, and on the Jforex we got a 0.2 pip EUR/USD spread. More info in the login section.
Trading instruments are Forex Pairs, Commodities, Indices, Stocks, Bonds, and Cryptocurrencies. This is a very satisfying list of trading assets.
The website can be translated into English, French, German, Russian, Polish, Spanish, Czech, Portuguese, Italian, Slovenian, Chinese, and Arabic.
DUKASCOPY LOGIN
The broker comes with three excellent platforms, the classic MT4, the innovative Jforex Trader, and the web-based binary options trader.
METATRADER 4
Holding the title for the most popular trading platform in the industry does not come easily. MT4 incorporates all features that both new and professional clients alike need to have in their trade game. Clients can set auto trades, and they come loaded with lots of customizable options for optimal trading. The superior charting package, and drag and drop features allow users to take faster and more practical trading routes. Chart analysis tools, customizable trading indicators, the inclusion of VPS, and much more make MT4 the best option out there. Furthermore, Dukascopy allows for PAMM (Percentage Allocation Money Management) accounts to be utilized. The essence of this is that inexperienced traders, or those without the time, can allocate a sum of their money to a qualified trader they chose before hand. From there on these adept traders will trade with their and your money with the sole purpose of generating as much profit as possible.
The MT4 spread we were given on our demo account was 0.4 pips, which is a superb value, while the leverage on the MT4 is capped at 1:100.
There are round turn forex commission when opening/closing a positing on the MT4. However, this commission is laughably low; a measly $1 per standard lot, which increase any spread only by 0.1 pips. Ans seeing as the spread for the EUR/USD (demo!) pair is 0.4 pips, with the commission it becoems 0.5 pips, which is still a very advantageous cost of trade.
The stock CFD commission is 0.10% per stock/share.
The metatrader comes as a standalone desktop trader, and as far as we're concerned, it is not made available in any other variant.
JFOREX
This trading terminal is a great alternative to the MT4, and is undoubtedly the main focus here. It is packed to its fullest potential with plugins, indicators, chart options, chart templates, time frames, even the ability for automated trading, and many more options. Honestly, this is by far the most impressive platform we've seen, besides the metatrader, and that is definitely saying something.

Jforex also comes with the possibility of automating your trades, and/or allocating them to a more advanced professional trader who will take care of your trading activities with the sole purpose of making you profit, or create top of the line trading strategies. Furthermore, users can also take advantage of many downloadable tools and widgets that will one-up your experience with the platform.
The leverage here goes as high as 1:200, and the EUR/USD spread is 0.2 pips.
One slight problem that we encountered, or rather didn't, was the clear missing info on Jforex commissions (if any).
Jforex comes as a desktop trader, can be used on iOS and Android devices, and has also be accessed via a webtrader.
DUKASCOPY BINARY TRADER
This web-based binary options trader is impressive, as far as similar platforms go. This one seems to offer many options for such a simple practice of betting on whether the price of a forex pair or CFD will go up or down. Users can use tools to aid them in their choice. Overall, another fantastic addition, and one of the finest binary trader we've come across.


There is an entry fee, should a trader decide to enter into binary trading. The premium depends on the contract size, which differs from client to client.
DUKASCOPY MINIMUM DEPOSIT
The deposit info is all over the place, and without a proper live registration one can have a difficult time gathering important account funding details.
The minimum deposit is $1000, which is quite high, four times the average size, but for a broker the scale of which Dukascopy Bank SA is, this sum is acceptable.
The base account currencies are extremely varied: USD, CHF, EUR, GBP, AUD, CAD, CZK, DKK, HKD, HUF, ILS, JPY, MXN, NOK, NZD, PLN, RON, RUB, CNH, SEK, SGD, TRY, XAU and ZAR.
Users can fund their account with Credit/Debit cards, Wire Transfer, and bitcoin.
Credit/Debit card deposits are processed for the next business day. Wire funds are credited to an account after 1-2 working days.
Bitcoin wallets have only the USD as base currency. The deposit processing time varies depending on the time it takes to convert BTC to USD.
The broker does not fee Credit/Debit card transactions, however banks charges fees depending on the base currency(s). Bank and bitcoin fees have not been mentioned. We assume that there aren't any, except for the ones issued by the banks in question.
DUKASCOPY WITHDRAWAL TIME AND FEE
FINMA guarantees smooth and safe withdrawals.
Withdrawal info is incredibly limited, with bits and pieces scattered throughout the website and legal documents. We were able to get our hands on very few details.
One withdrawal method seems to be via Bank, as exemplified by the Transfer Request / Account Closing Request document. The other is via Bitcoin.
Bank withdrawals are free of charge, while bitcoin withdrawals are charged a small fee based on the user's base account currency.
Withdrawals via Bank take on average between 3-5 days, or that is what we assume because there is no info on such details on the website. Bitcoin processes request faster, but at times it can still take hours.
There is a Bank Guarantee for all Standard Account holders. This is 1.25% per year. All other fees are standard broker fees that all regulated brokerage firms apply.
BOTTOM LINE
Dukascopy should be experienced by all those that can. This is one of the most fulfilling brokers we've reviewed so far; the trading conditions and their accompanying methodologies are superbly varied. This one is a definite recommend!
Rich Snippet Data
Reviewer
Review Date
Reviewed Broker
Broker Rating