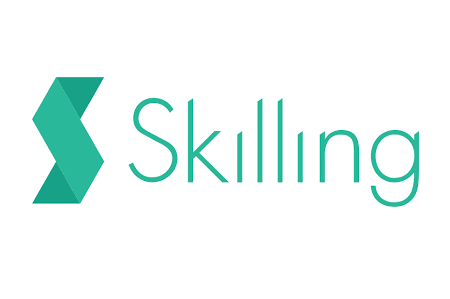 RECOMMENDED FOREX BROKERS
Skilling is a new broker, still in its early stages, yet is shows promise with its smooth and simplistic website that seems to be aimed at more retail traders. Skilling promises, but can it deliver?
Skilling Ltd is authorized by CySEC. This agency's work is to oversee brokers and their operations, and if necessary to take disciplinary actions. Furthermore, Skilling is a member of The Investors Compensation Funds (ICF) under CySEC, that has as objective to compensate traders if a member of the ICF (in this case Skilling) is unable to carry out its obligations. If this occurs then the trader is reimbursed a maximum of €20 000 from the collective fund.
This brokerage has a distinct northern, almost Scandinavian feel to it.
The leverage in Skilling is limited to 1:30 as per ESMA decree. Professional clients can apply for a higher leverage if they meet a set of demanding requirements. The cost of trading for the EUR/USD currency pair flickers between 1.4-1.5 pips.
The following are the instrument that Skilling has made available for trade: Forex pairs, Cryptocurrencies, Indices, Commodities and Equities.
The site comes with only 4 available languages: English, German, Norwegian and Swedish. The set of languages further emphasizes the Scandinavian vibe.
SKILLIN LOGIN
For the time being, Skilling comes with solely with a proprietary platform.
SKILLING TRADING PLATFORM
Skilling's platform is visually very appealing, yet there is much to be desired when compared to the powerhouse that is the MT4/MT5. Keep in mind that we tried the web platform which is, almost always, a compressed version of the desktop trader. There is room for customization, there's multiple time frames, indicators and multiple order types.
The average spread we got was 1.4-1.5 pips, while the leverage cannot go above 1:30. At the time of writing this there are no commissions.
The platform is available as a web trader, a desktop trader and as an app for Android and Apple devices.
SKILLING MINIMUM DEPOSIT
The minimum deposit is $50. This is a very friendly number, allowing for small traders to try out and learn the trade.
The methods used for funding are: Trustly, Bank Transfer, Credit/Debit Card, Skrill and Neteller. There is much to be desired here, yet we must take into consideration the youthfulness of the brokerage.
The accepted currencies in which one can open an account with are: EUR, USD, SEK and NOK.
The processing of deposits is handleд within an hour for Credit/Debit Card, Skrill and Neteller. Trusly and Bank Transfer users must wait for some 0-3 days.
The broker does not charge any fees but it warns that 3rd party payment system charges may apply.
SKILLING WITHDRAWAL
CySEC regulation reassures traders that all withdrawals will be processed with the utmost care and respect.
The withdrawal methods are the same as the ones used for depositing: Trustly, Bank Transfer, Credit/Debit Card, Skrill and Neteller.
Processing times have been indicated to be 1 day for all methods of withdrawing, except for Trustly and Bank Transfer, in which case users must wait between 0-3 days. The broker processing time are different from the payment system ones, and so once the request has been dealt with by the broker, the time it takes for the money to arrive in your personal account rests upon the payment system used.
All methods of withdrawing funds are taxed. Upon the first request they are free of charge, however if another request is made within the same calendar month Skilling will charge a sum of €12.5 per withdrawal until the end of the month.
The minimum withdrawal amount is €50 for all payment methods.
There is an inactivity fee for dormant account holders. The structure of the fee is quite odd: the broker charges €10 once after 12 months of no activity, and then once again after 12 more months of inactivity, basically making it a yearly charge. It makes you wonder why bother with such a fee in the first place.
BOTTOM LINE
Skilling is a very fresh new broker that doesn't necessarily bring anything new to the table, but there is something cool about it that we just can't quite put our fingers on. The broker is sure to include more features and options as it continues to grow, and hopefully will endeavor to stretch its influence beyond the Scandinavian/Germanic countries. This is a definite recommend!
Rich Snippet Data
Reviewer
Review Date
Reviewed Broker
Broker Rating