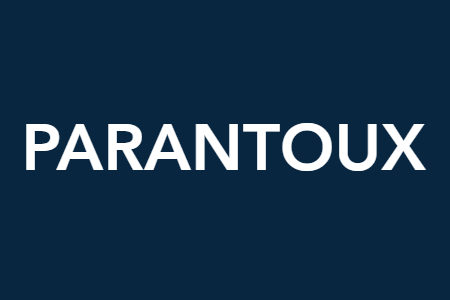 Warning! Parantouxtrading is an offshore company! Your deposit may be at risk.
RECOMMENDED FOREX BROKERS
Parantouxtrading has the look of a slick website, with an interface that can be compared to that of a museum website… until one scrolls down. Readers be aware that looks are one of the greatest weapon of illicit brokers. Does Parantouxtrading fall into that category? Read on to see.
The website is actually extremely limited in terms of content and options. Most notably, there is no way to register, no legal documents, no trading information, no nothing. In particular there is no info on a license. We can easily put Parantouxtrading  in the UNREGULATED pile.
Always check for a proper broker license within the domains of the regulatory agencies and within the broker's website. We advise traders to go with FCA/CySEC regulated brokerage firms, since these two agencies are some of the best for the job.
The only way to access any information is through the opening of a live/demo account, which is based on requests. A user must send a request, and get approved by the broker to open a demo account. As for the process of being approved to trade with an actual live account, we assume that users are contacted by representatives of the broker and are pushed to deposit using login info provided by the broker's agents.
We assume that the broker tries to recruit victims by directly contacting them once they give away their phone number in the registration page. After that the user will eventually start getting phone calls from the broker's representative, whose one and only goal is to push you to make an initial deposit. In so doing, the first stage of the scam is complete- the pitchers have won themselves a hefty commission. After the pitchers are done with you, the retainers, or so called "personal account managers" will charm and manipulate you into funding your account with much larger sums of money ($10 000…), because, as they will claim, that is the only for you to profit in the tens of thousands.
Needless to say, without registering we cannot offer any real trading conditions. The website offers a sub page with account types, which is the closet we get to the real thing. More on that below.
The website is only in English.
PARANTOUXTRADING LOGIN
The platform remains a complete mystery to us. As we noted earlier, we assume that trading conditions, if any, are disclosed only to those that have been contacted by the broker and have agreed to deposit. If this is the case, then traders are probably presented with fake spreads and assets for the sole purpose of prolonging their investment in this illicit brokerage firm.
Continuing form where we left of, the accounts that the website presents are all time based. They expire. Some in 30 days, others stay for a longer time. Each account type has a specific number of assets that the holder can trade with. For example, the Silver MTA trades with Crude Oil Markets and US Blue Chip listed stocks.
PARANTOUXTRADING DEPOSIT/WITHDRAWAL
The only real info we gt is on a minimum deposit, which according to the page with all the accounts, is $250. The other usual payment info that we provide is unavailable, because it does not exist.
DON'T PROVIDE YOUR CREDIT CARD CVV CODE
Never give away your CVV code without first making sure that the broker is regulated by an efficient agency. By giving away your Card info with the CVV code to some unconfirmed person you are literally giving access to your funds, and if these details fall into the wrong hands, rest assured that your bank account will be promptly emptied.
DON'T PROVIDE ACCESS TO YOUR COMPUTER AND BANK ACCOUNT VIA ANYDESK OR TEAMVIEWER
Be sure to never give AnyDesk or TeamViewer access to your PC to unverified agents. These 2 platforms allow for your PC to be taken over by a second party, often times for help or guidance, but in the case of these brokers for the sole purpose of looting your bank account(s) and personal information. However, in order to do so your consent is needed, and this is the only thing standing in the scammers' way.
ACCOUNT VERIFICATION
Beware, once more, when giving away an ID and a proof of address. Trustworthy brokers ask for these before traders can deposit to make a check up. Deceitful ones will ask for these details, using the anti-money laundering legislation as pretext, once you start asking too many questions and are getting suspicious of their activities. Understand that they will use this to build a stronger case against you in the event that you request a chargeback.
We are positive that this so called broker will not return your funds; the evidence we have laid out before you work in sync against it. The sound thing to do is to direct your attention and investment to an FCA or CySEC licensed broker where the law is integrated in every aspect of their operations.
HOW TO RECOVER
Don't delay, and file for a charge back ASAP with your bank or credit card company, but also ask them what the situation with your current account is.
If you have given away your credit card details including the CVV code to the "broker" you should cancel it ASAP and check with your bank to see the damage inflicted.
Victimized traders will have their guards down looking for every opportunity to get their money back. This is where the fake recovery agents come in, seeing an opportunity in your desperateness. First of all, they will promise to recover all your money, but they will ask a fee to cover their services. Once this fee is paid rest assured that you will never again hear from them.
The last line of defense for these indecent folk is more like a desperate cry: often times they will comment on reviews and cite the whole ordeal as a conspiracy initiated by competitive brokers against them; at times even claiming that reviewers are anything but objective, and that no one writes good reviews. The absurdities are limitless!
BOTTOM LINE
Parantouxtrading is 100% a scam. Do not deposit here, for there is nothing here except the loss of money!
Rich Snippet Data
Reviewer
Review Date
Reviewed Broker
Broker Rating