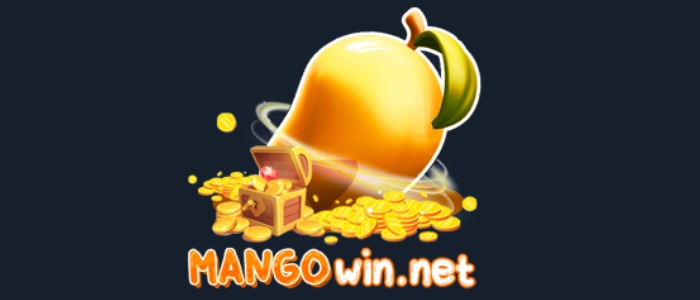 MangoWin Casino is one of the worst casinos by far that we have reviewed, and we cannot see a way that it can thrive in today's world. With a poor website, convoluted bonuses, and a lack of content, this casino is a solid pass.
BONUSES
| | | | | |
| --- | --- | --- | --- | --- |
| Bonus | Min deposit | Max Bonus | Wagering requirement | Cash out limits |
| New Player Pack Bonus | 200 pesos | n/a | 25x | n/a |
| Super Commission System | n/a | n/a | n/a | n/a |
| Invite friends to First Recharge | n/a | n/a | n/a | n/a |
| Three Agent Relationships | n/a | n/a | n/a | n/a |
| Betting Commissions | n/a | n/a | n/a | n/a |
| Exclusive VIP Bonuses | per case basis | per case basis | per case basis | per case basis |
MangoWin Casino presents perhaps the oddest and some of the worst bonuses we have seen, ever. There is no information on any of these in the legal documents, as normal casinos do, and instead the platform presents an odd range of confusing and perplexing conditions.
New Player Pack Bonus of 100%
After a 200s peso first time deposit the casino will grant the user this 100% bonus. There is a 25x wagering requirement, and the max cash-out and the actual bonus cap have not been revealed.
MangoWin Super Commission System and Invite friends to First Recharge and Earn
These two separate bonuses sound exactly the same to us, and the only real difference seems to be the phrasing of the words. All we were able to get from these is that both are some sort of "refer a friend" bonuses, but that is about as much as we can tell. There is non telling how much you gain from a referral, not how the apparent tier system works. The more you refer the more points you get that is obvious, after which the points the client gets are added to something called a "commission". But the amount of referrals expected is ridiculous, claiming that you need 100 invited 100 players to earn a weekly salary, which we assume is ome kind of a reward
MangoWin, Three Agent Relationships Between Users: There is absolutely no information on this bonus, or whatever it can be called. The broker points to the following scheme:  the user invites A, A is your Lv.1 agent; A invites B, B is your Lv.2 agent; B invites C, C is your Lv.3 agent. Whatever hope we had for this bonus is long lost in translation.
Betting Commissions
By now we are used to the complete lack of proper info for these bonuses. Here were are again presented arbitrary details, claiming the user to be granted  "platform rewards' in exchange for every bet from all users he or she invites. The system by which the bonus works is convoluted, and makes no sense. The casino claims the withdrawals are not imposed with restrictions.
Exclusive VIP Bonuses
The exact conditions to activate and gain points has not been revealed, only he rewards associated with the VIP levels: increased rake backs, exclusive promotions, no withdrawal requirements. But it all losses its meaning when realizing how much accumulated bets you need to reach a new VIP tier: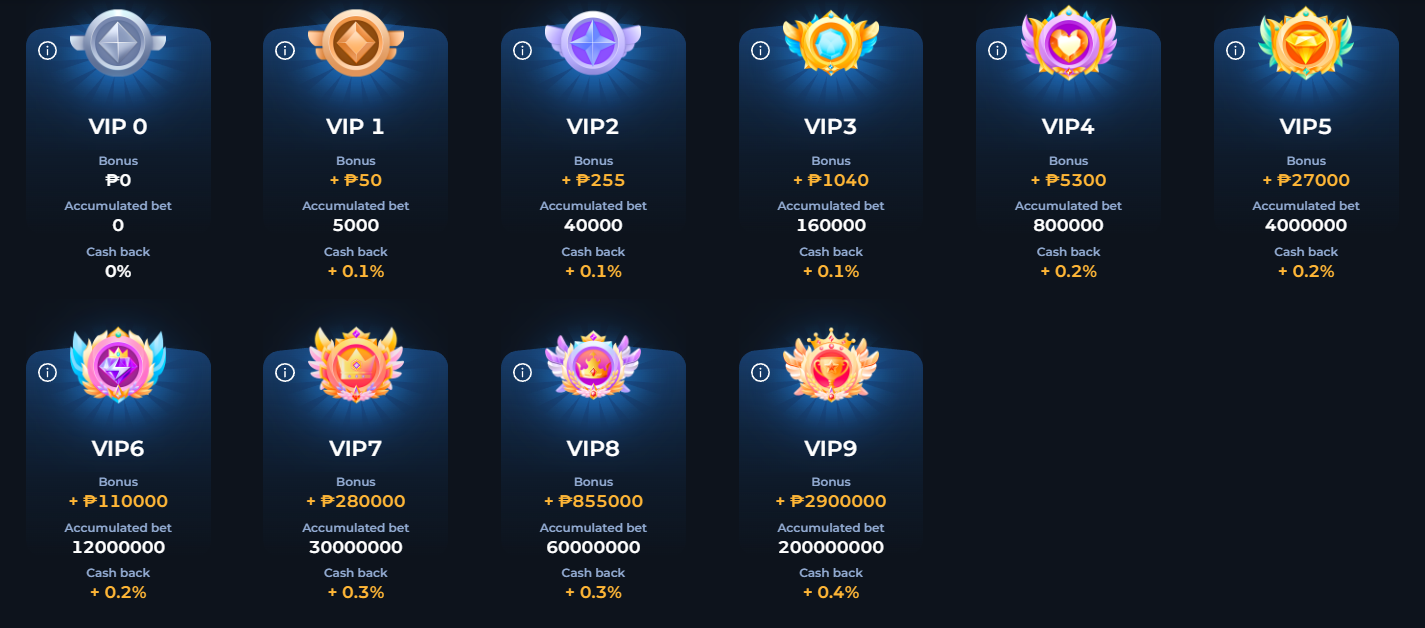 We are not sure if this is equal to money or to the number of actual bets, but either way it i ridiculously high, and it makes the VIP program quite redundant.
What an embarrassing mess of bonuses. We find them to be completely useless and risky to use, not to mention that each and every one basically states the same thing: refer as many people to MangoWin Casino, and get paid in crumbs, while the casino eats the whole bread.

To make matters worse, we are told that the wagering requirements can be changed at the casino's exclusive convenience, as well as the limit on a user's account. That is all we need to know for sure that MangoWin Casino will do everything to profit from its clients, with minimum rebound.
LICENSE
As it turns out, MangoWin Casino is unregulated, but by now the element of the surprise has long left out system. We knew all too well that this casino would be completely unlicensed, and a risk.
There is no information on any legal conditions, not to mention no contact addresses, nothing further. In other words, MangoWin Casino is not only unlicensed but it is anonymous which renders quite disreputable. And we say this despite there being a mention of the laws of Curacao in the legal documents. Despite this, there was no link to a license, meaning that MangoWin Casino could have lied about the laws claim altogether.
We return to the risk factor in MangoWin Casino. Although it may seem counterintuitive, the unlicensed casino is rarely a scam, since most casinos have to be approved by game providers, while other services are not given so lightly. However, in the case of MangoWin Casino we can honestly say that we never felt that we would be safe here if we ever decided to invest.
Not only is the lack of a license a fact, but the casino itself is very poor, and this legal void only makes things much worse, for the casino. Users can chose from other platforms, and we urge them to do so.
As for the restricted countries, in the legal provisions the closest thing to a restricted list of nations is a clause that states the user has to check for these restrictions himself.
DEPOSIT AND WITHDRAWAL
| | | | | | |
| --- | --- | --- | --- | --- | --- |
| Payment Method | Min Deposit | Min Withdraw | Deposit Processing Time | Withdraw Processing Time | Withdraw Fee |
| Credit/Debit cards | n/a | €20 | n/a | n/a | system fees, hidden fees |
| Bank transfer | n/a | €20 | n/a | n/a | system fees, hidden fees |
| e-wallets | n/a | €20 | n/a | n/a | system fees, hidden fees |
There was a limited source of payment details, not to mention that the details that we do have may not be so accurate. So bear with us.
We learn, from the legal docs, that the available payment methods are credit cards, debit cards, banks, and third part processing e-wallets, but the casino does not make it easy for anyone to discover these details.
We also learn that the minimum deposit requirement is €20, while a minimum deposit has not been revealed.
There are fees, as per the following clause, applied to both deposits and withdrawals. In most cases these fees are system fees, but the very essence of this claim means that the casino can chose to apply its own fees, and what these are has not been revealed at all.

There is the standard 1x deposit wagering requirement that has to be done in order to withdrawal properly, Otherwise a €4 fee will be charged to the request. This rollover prerequisite is not connected to any bonus wagering requirements.

And finally, we have a €5 monthly dormant account fee if an account has not been in use for more than 12 months.

GAMES AND GAME SUPPLIERS
MangoWin Casino had a disappointing games collection, and we never expected anything better thant that.
On its slots side it offers games such as Fortune Tiger, Dragon Tiger Luck, Fruit Nova, Temple of Thunder, Patrick's Magic Field, Temple of Dead, Charge Buffalo, 777, Lady Wolf Moon, and more, while there are only 4 providers for these games: PG, Evo, BG, and Jili. The entire slot games collection is limited and lackluster, lacking any real variety or color. Even the scratch, cards, and fishing games add very little to the feel.
The live casino sections boast of only 14 games: Monopoly, Roulette, Blackjack, Crash or Cash, Craps, Poker, Football Studio, Dream Catcher, and Spin the Wheel. This is a definite let down, and another sigh that this casino has take the high road from the start.
To talk about a sports betting platform at this juncture should be a miracle., but even if the casino did have one is would be too late. MangoWin Casino is a joke on all fronts.
CONCLUSION
It is currently impossible to find a reason to play on MangoWin Casino. This casino offers the equivalent of a third or even a fourth of what most modern casinos offer, and that's without counting the lack of a license. There is nothing for you here worth of value.
MangoWin Casino Pros and Cons
| | |
| --- | --- |
| Pros | Cons |
| Nothing Goog | Unlicensed |
| | Lack of Games Variety |
| | No Sports Betting Platform |
| | Limited Payment Info |
| | Unacceptable Bonus Structure |