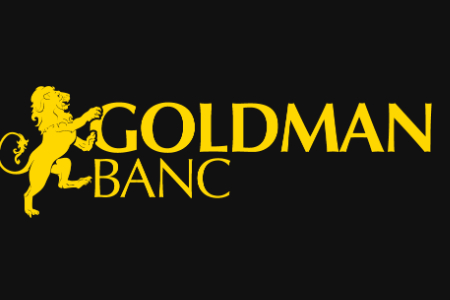 Warning! Goldman Banc is an offshore company! Your deposit may be at risk.
RECOMMENDED FOREX BROKERS
If Goldman Banc has intentionally misspelled the word "bank" then there must be a reason for it somewhere in the theme of the broker. However, something tells us that this is not a calculated mistake, but a sheer gaffe exemplifying the quality of the broker. Read on to find out all there is to know about this one.
The broker claims to be regulated in St. Vincent and the Grenadines, an environment synonymous with illicit brokers for the simple reason that the small island nation does not have a financial regulator. Thus any broker company that operates from there is not regulated even if it is registered. So Goldman Banc is UNREGULATED, making it a risk to all investors.
We urge traders to trade with regulated brokers under the gaze of such agencies as the FCA which not only enforces a strict set of rules and demands detailed reports on company activities, but also includes a compensation fund of up to £85 000 for victimized traders resulting from insolvent brokers.
We opened a live account with no issues, and were soon given direct access to the trading platform, where the EUR/USD spread turned out to be 1 pip, a value very favourable to traders. The leverage according to the website, for we cold not find it anywhere on the user area, is 1:200. The platform gave us the following assets to trade with: Forex Pairs, Equities Crypto, Commodities, and Indices.
The languages available are English, Italian, Spanish, German, Chinese, Arabic, and Russian.
GOLDMAN BANC LOGIN
Goldman Banc comes equipped with the Sirix Trader.
The platform is quite decent: there are pending orders, one point clicking, some room for customization, and there's even copy trading. The trader is quite decent looking, and function well enough, but it cannot be compared to professional platforms like the MT4.
GOLDMAN BANC MINIMUM DEPOSIT
The minimum deposit revealed by the payment terminal is $250.
The only way to deposit is via Credit or Debit Card. An interesting choice for a depositing methods, seeing as most unregulated brokers allow for bitcoin as well.
Due to he broker's lack of any regulation, we advise against depositing any amount whatsoever. If traders wish to invest in online forex, they will find that any FCA/CySEC regulated broker will surely do. These agencies are at the top of their game, demanding a strict conduct from brokers, and requiring regular reports on their activities.
DON'T PROVIDE YOUR CREDIT CARD CVV CODE
The CVV code is the one thing that separates a buyer from a product. Without it, one cannot complete a purchase, even if him/her has given all other necessary information. By giving this detail to someone else, you are essentially inviting them to use your funds for their own means. And be warned that unregulated brokers most certainly plan to do so.
DON'T PROVIDE ACCESS TO YOUR COMPUTER AND BANK ACCOUNT VIA ANYDESK OR TEAMVIEWER
It may or may not happen, but if an unregulated broker asks you to install AnyDesk or TeamViewer and give them log in details, consider yourself very open to a complete drainage of your funds from all your online accounts. These softwares allow for anyone to access your PC from another station and go through all your files and vital information, including credit card, bank and alternative payment method details. Thankfully, these platforms are completely legal and will need your own personal approval in order to be used.
GOLDMAN BANC WITHDRAWAL TIME AND FEES
Withdrawal requests are typically processed within 7 days.
Wire Transfers are charged with $50; credit/debit card withdrawals are levied by $35, and e-payments are taxed with $25. Furthermore, an account that has not turned over more than 200 times it deposit will be issued a % fee upon the next withdrawal.
However, with the next clause we can easily shut down this broker and move n to better things. What you are about to see is the Non-Deposited funds clause, claiming that all profits are not withdrawable.
ADDITIONAL FEES AND TAXES
There is only one clause worth mentioning. It is one of those ambiguous fee type of deals.
We believe that any effort to withdrawal your money will be unsuccessful. Either the broker will find a loophole in the terms and conditions that is completely made up, will firmly advise you against withdrawing, or they will ask more deposits needed if one wished to withdrawal. Scammers come up with additional fees and taxes for the sole purpose of keeping you on stand-by, and to deplete as much money from you as is possible.
ACCOUNT VERIFICATION
If a broker is unlicensed, never give you ID and personal details to it, because the broker will use these details against you once you file for a charge back. Furthermore, any allegation held against the brokerage will be easily refuted if they have in their possession a copy of your ID and proof of address.
The most important thing to note is that this broker will not return your deposit, nor will it pay your winnings. It never had this intention in the first place. The best advise is to walk away from it, and go straight for a regulated broker. The FCA and CySEC are the top non-US license issuers, and those under their gaze are bound by the law to put the security of users' funds as pivotal priority.
HOW TO RECOVER
Don't delay, and file for a charge back ASAP with your bank or credit card company, but also ask them what the situation with your current account is.
If you have given a CVV code to the broker, be sure to cancel your credit card as soon as possible, because the broker will not delay with draining every cent from it.
Also, beware of self proclaimed "recovery" agencies or agents. These cheeky scammers promise to fix your problem and restore the lost funds. They offer their services in exchange of a small sum from your end, after which you won't ever hear from them again.
The last line of defense for these indecent folk is more like a desperate cry: often times they will comment on reviews and cite the whole ordeal as a conspiracy initiated by competitive brokers against them; at times even claiming that reviewers are anything but objective, and that no one writes good reviews. The absurdities are limitless!
BOTTOM LINE
We believe that any money invested in this alleged broker will be forever lost. Do not waste your time here!
Rich Snippet Data
Reviewer
Review Date
Reviewed Broker
Broker Rating